The last post showed an ultra-cluttered desktop, albeit highly information packed. What I have today is a minimalist desktop—one I adopted a few days back—after having issues with the default Win7 theme in Foobar2k. The screenshot features the FlureVS, and Foobar2k.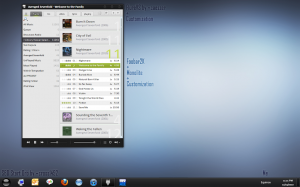 So, to get something like this, you'd need the following:
FlureVS
SBD Start Orb
Monolite-plus-mod-v5
and obviously, Foobar2k and Windows 7 😀
I've also done some modding besides the stuff I've just mentioned, specially in the Foobar2k theme, and little stuff like font sizes, etc in the Win7 theme.
To get the name on the Taskbar:
Create a blank folder having the name you want
Create a toolbar pointing to the folder
Done!
To install the mentioned theme:
Get and run Universal Theme Patcher (you'll get loads of links, so no worries about that)
Patch the system files (this step is necessary to use shell customizations, which almost all themes rely on)
Copy theme files to WindowsResourcesThemes
Open the .theme/.themepack file to install theme
Done!
To get the clean desktop, either delete/move all the stuff or Right-Click (on desktop) -> Show -> Uncheck Desktop Icons.
Enjoy the minimalist experience.
PS: If you're reading this, seriously try Foobar2k once. You'll forget all other MusicPlayers