I've always wanted to put up a screen of my desktop. I've been modding theme files and customizing it since the WinVista days. And finally, I get myself to do it. Hope you guys like it…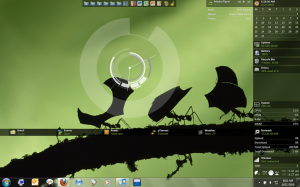 Yes I know it says "variation", but I haven't modified Gnometer. I've just used it in a different way… The basic idea was to put all the feeds and internet grabbers in one place, and sysinfo in another. And Gnometer comes with a handy toolbar too! And of course, the ever handy Enigma icons for Sunrise/set info, moon phase, etc. Boy, I do LOVE my desktop.
Tools and Skins used:
Rainmeter 1.3 beta
Gnometer
Enigma
Arcs
(Don't worry. The links are just for reference. The themes come by default in Rainmeter now…)
Wallpaper:
I've been using Rainmeter since 0.1x (Feb 2006). It's been a wonderful journey. I have a series of pics to show, starting from my first desktop, to Enigma and more. And maybe someday I'll get around to doing it. Till then. Ja ne.
PS: Know what? The day's finally come! But I don't have as many pics as I thought… Do check out the desktop evolution post.