That was some project. The report took almost 2 days to complete. And the project.. well its just half done, but how would they know! In the end, what mattered was getting the Report complete and ready for a signature. And presto! Another successfully completed Project. One more that can be put in the Resume! And that's what counts. (As if…)
I've slogged my ass off the last 4 days, just to know now that the only thing that mattered was whether the project "Executed" or not. Come to think of it, he didn't even look at the code. Advantage rest of the batch. Yeah. Besides a pitiable few like me, the projects were ones that had been handed down generations of MNNITians.
In the end though, I'm glad I've done it myself. Cuz u know what? At least I won't have nightmares about the interviewer having done the same project as myself.
A snapshot of my project 😛 Come on guys, lemme have my 5 secs of fame 😀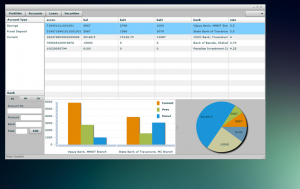 PS: I'll upload the pics later. For more info, see the next post