Things have been quiet on the blog for a while now. I've been busy with foobar2000, the semester project, etc among other things. I've finally got time to post an update. I've been working on this (not quite so) new feature in
Google Books
, called My Library. It is to, in their words, "help people harness the power of Google search within their own personal book collections."And it has somehow got me to set up the library, something I'd done back in an Orkut app in First year.
Well anyway, here's the Library so far. It's got almost all the books I've read in college (68 and counting) 😀
Here's a li'l screen shot. I'm really grateful for this tool. And I must add, it's one of the few things Google's got right.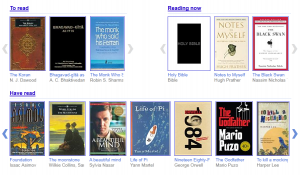 PS: As an afterthought, this not so new feature has been around since 2007, so I think it qualifies as old 😀